Get our free report on WFM in Care Homes post COVID-19: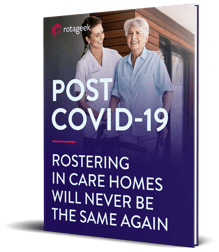 29% of managers spend more than nine hours per week creating employee schedules - time that could be spent doing something more valuable, like taking care of residents. In this report you will find:
Overview of care home rostering in light of COVID-19.
Survey results of managers, rota makers and employees on how scheduling effects not only end results, but also the staff morale, retention and happiness.
Best practices and ways to improve your rostering in the future.