The two market-leading cloud-based workforce platforms are Rotageek (which provides advanced rostering solutions) and Locum's Nest (the leading staff bank management platform in British healthcare).
From today, the platforms' combined technology will allow NHS hospitals to build compliant rosters in just a few clicks, broadcast vacancies across the Locum's Nest network, and then seamlessly allocate shifts directly onto the roster - freeing time for overstretched hospital administrative staff.
The first NHS Trust to use the integrated service is set to go live in the coming weeks with the live integration between the two software companies thought to be the first to reach the healthcare industry following a period of rapid innovation during Covid-19.
It is well-documented that the healthcare industry can suffer from understaffing and a high level of admin, this partnership tackles both issues directly. Locum's Nest is leveraging its extensive network of over 30,000 healthcare professionals to help hospitals boost their contingent workforce and Rotageek is employing state-of-the-art machine learning algorithms to efficiently roster even the most complex of organisations. A truly innovative solution.
Rotageek's founder, Chris McCullough, and Locum's Nest founders, Nicholas Andreou and Ahmed Shahrabani are all former clinicians who share the same mission: to help the NHS optimise its patient care through effective workforce management.
The vast experience from both companies, respectively in demand-optimisation with large enterprise retail, transportation (Rotageek) and healthcare organisations' flexible workforce management (Locum's Nest), meant it was a natural evolution to combine forces in a partnership that now synergistically brings their cutting-edge technologies to healthcare. Additionally, Rotageek and Locum's Nest already work with a number of healthcare organisations across the UK and had both been offering their platform for free to platforms during the COVID-19 outbreak.
Chris McCullough, CEO of Rotageek, said, "It's our mission to create a step-change in rostering to improve not only how businesses and organisations run their operations but to also positively and significantly impact the lives of shift-based workers. As a [former] doctor, I am particularly passionate about taking those benefits to the healthcare sector with as much success as we have achieved in the retail sector and Locum's Nest are a perfect partner who shares our vision exactly."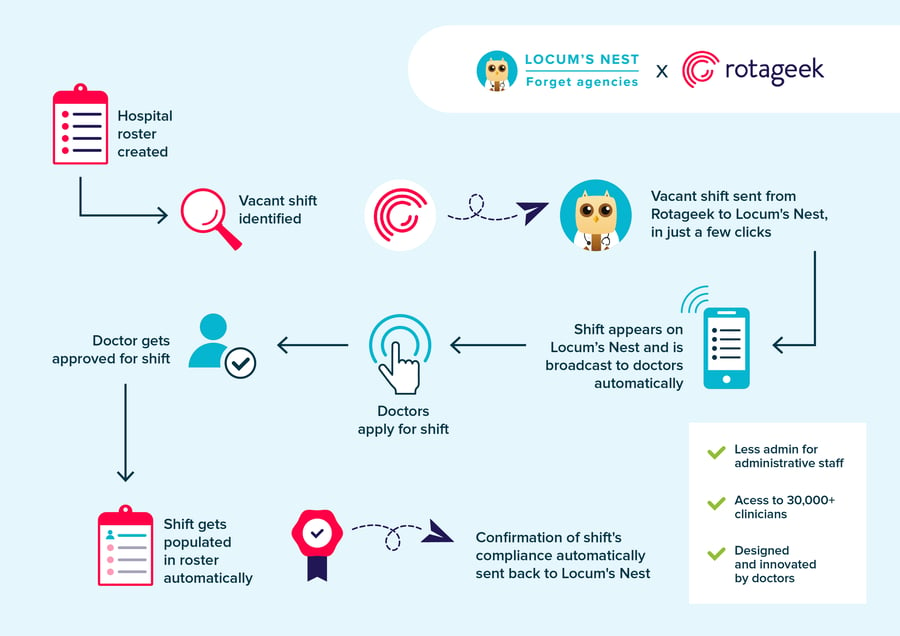 Both platforms are constantly developing new digital tools to respond to the evolving needs of front line colleagues in the NHS. Rotageek is currently working on a project with the NICU at St Thomas' Hospital in London to apply the machine learning algorithm to schedule Junior Doctors over multiple months and ensure they adhere to staffing requirements, the safe-working rules and individual working patterns, preferences, leave and any other organisation rules.
Last month Locum's Nest launched its new Workforce Intelligence Navigator (WIN) analytics tool, which allows Trusts up and down the country to better predict their workforce needs enabling them to have the appropriate clinical cover in place when required. The platform triangulates Locum's Nest user data with government released COVID cases across the UK, and publicly available ICU data, therefore effectively matching demand with supply - a critical need during such a pandemic scenario.
Stay tuned for more updates as the integration goes live in the coming weeks! 🚀