As the world went into lockdown, businesses and innovators rallied together in response to the outbreak of Covid-19. Health companies joined forces with medical startups. Leading pharmaceutical brands invested in research. Thousands united to support the government and our National Health Service.
Since the pandemic, the NHS has ramped up its use of technology and innovation more than ever before. Remote consultation software grew by two-fold whilst investors offered funding to digital healthcare startups supporting those in self-isolation.
As the need for faster, more creative solutions rises, as does the market for new health tech.
The most innovative healthcare startups to watch in the UK
Empela
Streamlining telephone consultations

In May 2020, almost half of GP appointments were carried out over the phone, compared to just 14% at the start of the year. Whilst 'telemedicine' became a solution for general practice during the peaks of Covid-19, it has proven to be an ongoing accessible method.
Empela is a healthcare startup that bolsters the use of telephone clinics. By combining fast fibre broadband and unlimited phone lines, surgeries and hospitals are now able to cope with an ever growing volume of patient calls.
What's more, clinicians can save time with automatic dictation software and clinical note entry for updating medical records.
Unmind
Supporting our mental health

Mental health has rapidly grown in awareness over recent years, but following the outbreak of coronavirus, it is expected that depression, anxiety and PTSD will have a long-term effect on many of us. It has therefore never been more important to invest in and care for our mental health.
Unmind is a startup doing just that. The platform shares a variety of tools to help organisations support their employees and at the start of the UK lockdown, a series was launched specifically to help users cope with the ramifications of Covid-19. Since implementation, the programme has helped thousands of users to adopt coping mindsets and manage their moods during the pandemic.
Locum's Nest
Streamlined scheduling for locum shift workers

Locum's Nest is making flexible working easier for our NHS staff. An online bank system connects doctors to locum work in hospitals, reducing the need for ineffective and expensive agencies.
Locum's Nest's mobile app seamlessly integrates with Rotageek's own e-rostering solution, meaning GPs and healthcare workers can benefit from greater autonomy in their scheduling. Users can swap, change and now pick up locum shifts that are automatically broadcast and populated following approval.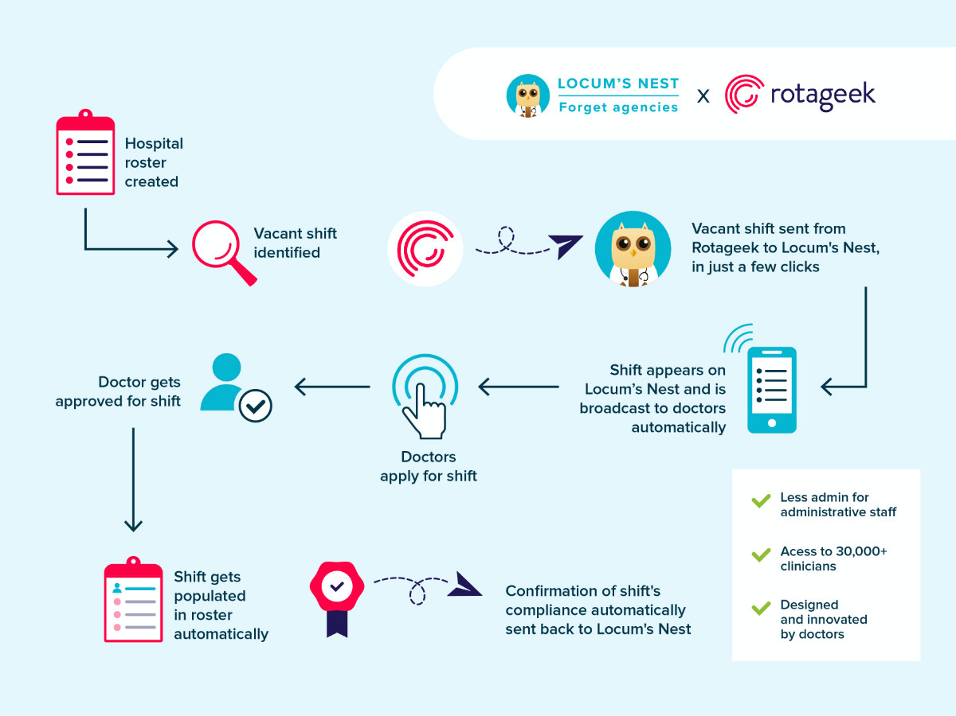 Patchwork Health
Empowering flexible working in our NHS

Another online platform innovating the way doctors operate is Patchwork Health. The award-winning healthcare technology takes the stress out of temporary staffing, granting greater empowerment to our healthcare professionals.
The digital staff bank service works in collaboration with their health care clients to deliver tailored technology including real-time insights, a simple-to-use employer hub and smartphone app where users can manage electronic payments.
The Hire Lab
Recruiting a new generation of doctors
When it comes to attracting a new wave of doctors, The Hire Lab is an innovative application that bolsters the recruitment process. From application to unboarding, users have the freedom to deliver a personalised experience to every candidate.
An intuitive hiring and assessment tool maximises interaction with applicants according to how they want to be communicated with. The streamlined design not only reduces dropout rates and boosts faster recruitment - it also engages hiring managers for an all round better talent strategy.
DoctorLink
Improving patient experience amidst a lockdown
DoctorLink is a health technology platform that provides 24/7 personalised medical advice. Developed by doctors, the application allows users to check symptoms and book appointments with their own GP.
The app was designed specifically for the NHS and therefore came as a shining solution to GP practices. The digital triage, video and phone consultation service increased user base to over 12.5 million.
Earnd
Closing the gap between earning and accessing pay
Monetary strains have been one of the biggest impacts caused by the pandemic. Devastating effects on the United Kingdom's economy have left many medical professionals financially unstable. Thankfully, various startups including Earnd stepped forward to support our NHS.
The financial app gives healthcare workers better control over how and when they get paid. And in the midst of the outbreak, Earnd granted NHS users even more flexibility for accessing their money.
Money tools such as Earnd can boost staff morale by helping those in need and also increase retention where on-demand pay is a benefit.
Wagestream
Building financial resilience for our healthcare
Similarly, the Wagestream app fast tracked the implementation of its financial software to just 24 hours for all NHS organisations during lockdown.
The charity-backed solution builds financial resilience by allowing users to develop long-term financial security and cope during uncertain times. This was put to practice during Covid-19, with users withdrawing monthly wages as and when required to avoid unnecessary debts caused by limited cash-flow.
Thalamos
Digitising the Mental Health Act
Manual administration is one of the biggest time wasters within our healthcare service. Laborious paperwork takes hours away from a clinician's day, leaving little time to keep up with the increasing demand on our NHS.
One innovation in health tech that is digitising our healthcare is Thalamos. By storing statutory forms such as the Mental Health Act on one system, clinicians can avoid basic errors and get back to delivering patient care.
---
Rotageek is an e-rostering solution that provides automatic staff scheduling to various NHS trusts and healthcare companies. Compliant rotas can be created in seconds, catering for flexible working needs and matching labour demand.
To learn more about how you can optimise your schedules and reduce brain drain, speak to the Rotageek team today.