This week, Rotageek won Small Business of the Year at the British Small Business Awards. And we couldn't be more chuffed.
Over the past years, we've worked hard to build a company that's spurred by passion and curiosity. Rotageek has grown and we're now 28 people strong. And that's the best bit — our team. Everyone is so talented at what they do and so supportive of the company and our success. Really, this is one of the main factors driving our growth.
Winning this award is a real testament to all the hard work our team has been putting in, and it's a sign that we're delivering on our vision to improve employee wellbeing and business operations — two things that are both related and significantly impacted by the quality of scheduling practices. The recognition this award brings shows we're consistently delivering results for our customers. We are now delivering 3-fold revenue growth year on year, and in Q1 of this year, we increased the number of employees on the system by over 500%.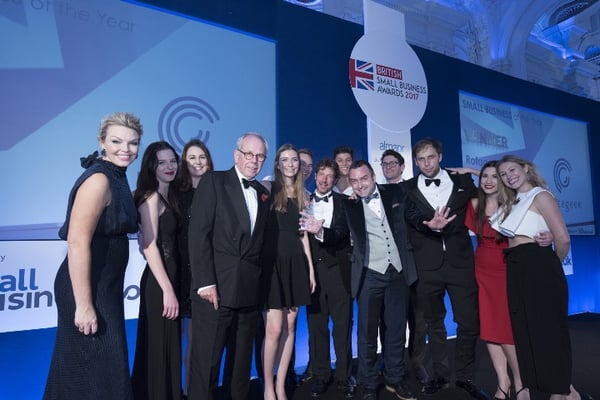 How we got here
Not that long ago I was still an A&E doctor working in the NHS. I never set out to create a tech company, let alone be the one running it. But scheduling difficulties were my every day and a huge obstacle to the department I worked in. I became determined to find a better solution, and that's what led me to data-science-powered-tech.
This award recognises our team as both innovative and growing, and it's a real indicator of successfully shifting our business from start-up to scale-up. As we grow, more employers can add transparency to scheduling, empower their staff to take control over their own work-life balance, and deliver better service for customers or clients.
We're powered by our people, and I couldn't be prouder of our team, our clients and our investors. I know that without the brilliant people I work with every day, we wouldn't have got to this point.
Where we're going
At Rotageek we're motivated by one goal — to help organisations use data in the most effective and sustainable way. This might sound simple, but in a world that's on track to generate 1.7 megabytes of new information per person every second, knowing how to apply data, and exactly what repercussions this will have on people, will only get harder.
That's why data science must be the backbone to decision making. Understanding flows and patterns throughout business operations is the best way to optimise business performance. And the way we design these algorithms needs to be future-proof. We're part of a group of organisations that are designing how decisions will be made in the future, and we're committed to making these compatible with people, not just companies.
To unlock this potential, we're investing heavily and R&D — leveraging artificial intelligence and machine learning — to build some of the most accurate forecasts of business demand currently available. This ultimately enables organisations to make better decisions, which ultimately delivers for both clients and staff.
I'm curious and excited to see where we'll be in a year's time. Last week's success was a milestone, but somehow it feels like it's just the beginning.