Social distancing, virtual doctors' appointments and data scientists predicting disease. What do these three, seemingly disconnected, things have in common? They're all outcomes of the monumental changes we saw in 2020, as the world grappled with the century's worst health crisis.
Regardless of the drivers, this year is seeing us all embrace change at an alarmingly rapid rate, with the medical sector seeing the biggest overhaul. With this in mind, we look at the biggest digital healthcare trends in 2021; a rundown of the primarily technological changes of an industry in transformation.
So, in a pandemic-tinted world, what are the shifts we're seeing in the medical field?
7 digital healthcare trends making moves in the medical industry in 2021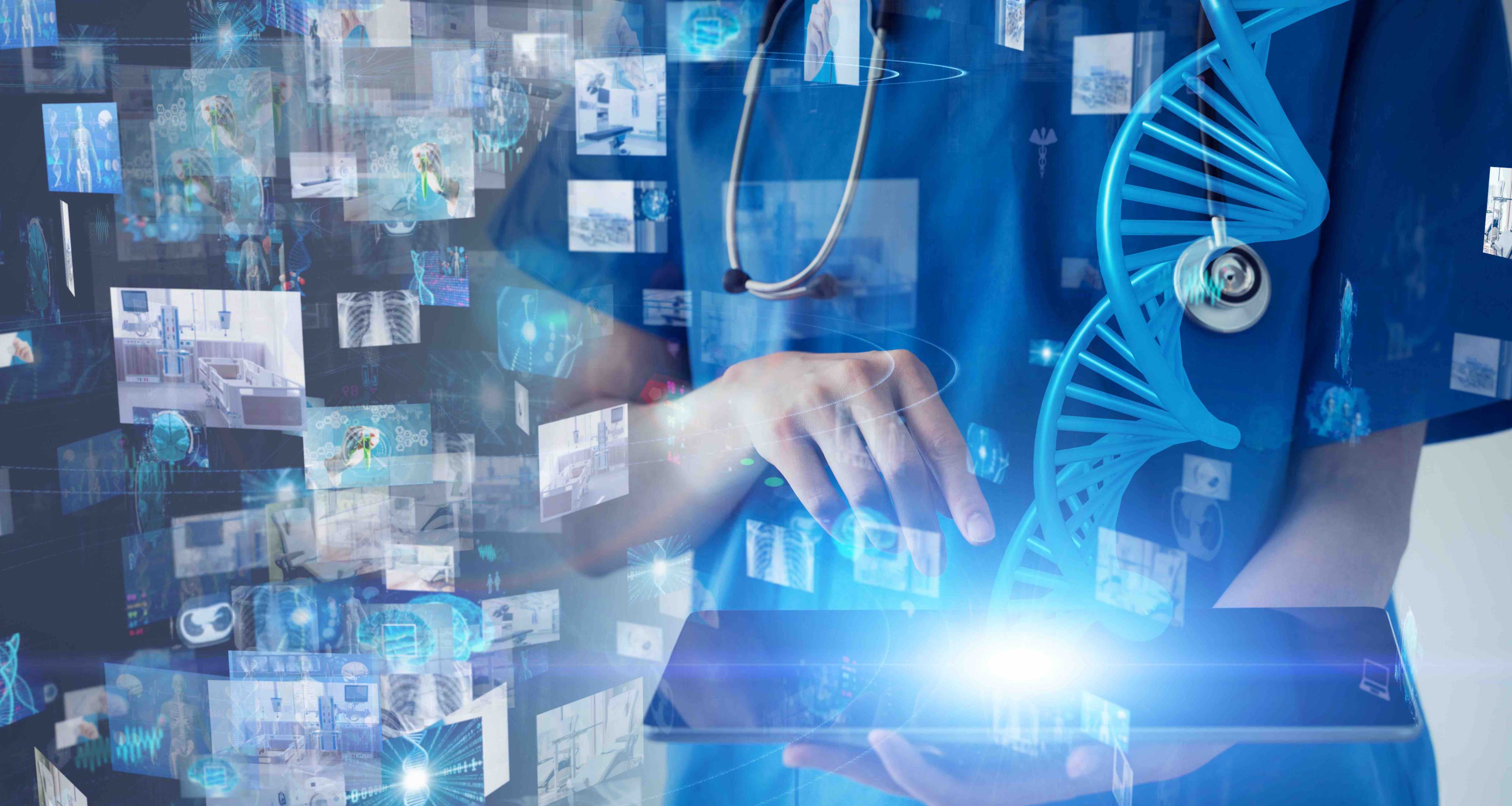 Using AI to improve efficiency
With AI (artificial intelligence) being used everywhere from household appliances to self-driving cars, there are obvious benefits to using the technology in a healthcare setting. But, on the whole, the use of AI has come with its challenges in the medical field. The biggest of those challenges has been centred around its ethical use, whether it can be seen as reliable enough to make a decision on a patient's health and of course the implementation into standard processes.
Now, in 2021, many of these hurdles have been jumped; sometimes with comprehensive training programmes and, other times, in finding the best use cases for AI technology. Take, for example, radiology where AI tools can be used to offer up an assessment for the radiologist. The power is still in their (very human) hands – they can sign off the assessment if they agree, or they can reject it, in turn helping the tool learn from its mistakes.
AI is also showing promise within drug discovery, with the first ever drug designed by AI, created to help sufferers of Obsessive Compulsive Disorder, going into human trials this year.
Creating quicker decisions in the cloud
Data privacy concerns aside, using cloud computing and storage to facilitate better, and faster healthcare decisions is a definite digital trend in 2021. Think of a set of x-rays, previously encased in a yellow manila envelope or written to a CD, and sent via post between consultants and medical facilities.
Now imagine these same x-rays uploaded to the cloud, and instantly accessible for review, saving time (and precious resources) and helping to speed up decision-making for affected patients. More than that, this year could see an individual's entire healthcare profile tracked, helping to paint a journey for the patient and throwing a light on the dark spots that might hinder medical professionals from making informed decisions on treatment.
This approach is not a fantasy but either in trial, or already rolled out. Take, for example, the United Kingdom's National Health Service (NHS) where the Blood and Transport department is using AI to forecast how much blood plasma is needed, or University College London Hospitals (UCLH) who are actively using AI tools to predict the risk of missed appointments.
AI is undoubtedly one of the key digital healthcare industry trends in 2021 that is more than a trend, and grounded in reality.

Innovation in interoperability
Like many processes in healthcare, Covid-19 has offered a raft of challenges, but equally as many opportunities to innovate. One of the areas seeing a rapid pace of change due in part to the pandemic is interoperability, essentially the data exchange between software systems.
The use cases are plentiful, but Covid-19 has meant that healthcare technologies have had to accelerate, and so software systems and providers had to innovate, fast. Take, for example, the use case of integrating digital staff bank management and rostering.
In the UK's National Health Service (NHS) system, often healthcare professionals are contracted through a third-party organisation to fulfil temporary vacant shifts at hospitals. One such provider, Locum's Nest, manages a community of 30,000+ clinicians across 30 NHS Trusts and hundreds of GP practices.
Facing down the pandemic, Locum's Nest worked with leading workforce management solution, Rotageek, on an interoperability project to create the first live integration between the rostering and bank systems. The result was that under-pressure rota-makers could immediately access locum pools and clinicians to seamlessly fill scheduling gaps. Both organisations believe that interoperability needs to unify and bind the strengths from each partner that generate a synergy that is far superior than the sum of individual parts for the NHS.
With interoperability being critical to the success of many government's plans, there's no doubt this healthcare technology trend will continue beyond 2021. The European Union, for example, is hard at work implementing their EU eHealth Action Plan (EHAP) while countries like India are hot on their heels, creating their own national eHealth policies which depend on interoperability to be able to scale for over a billion people.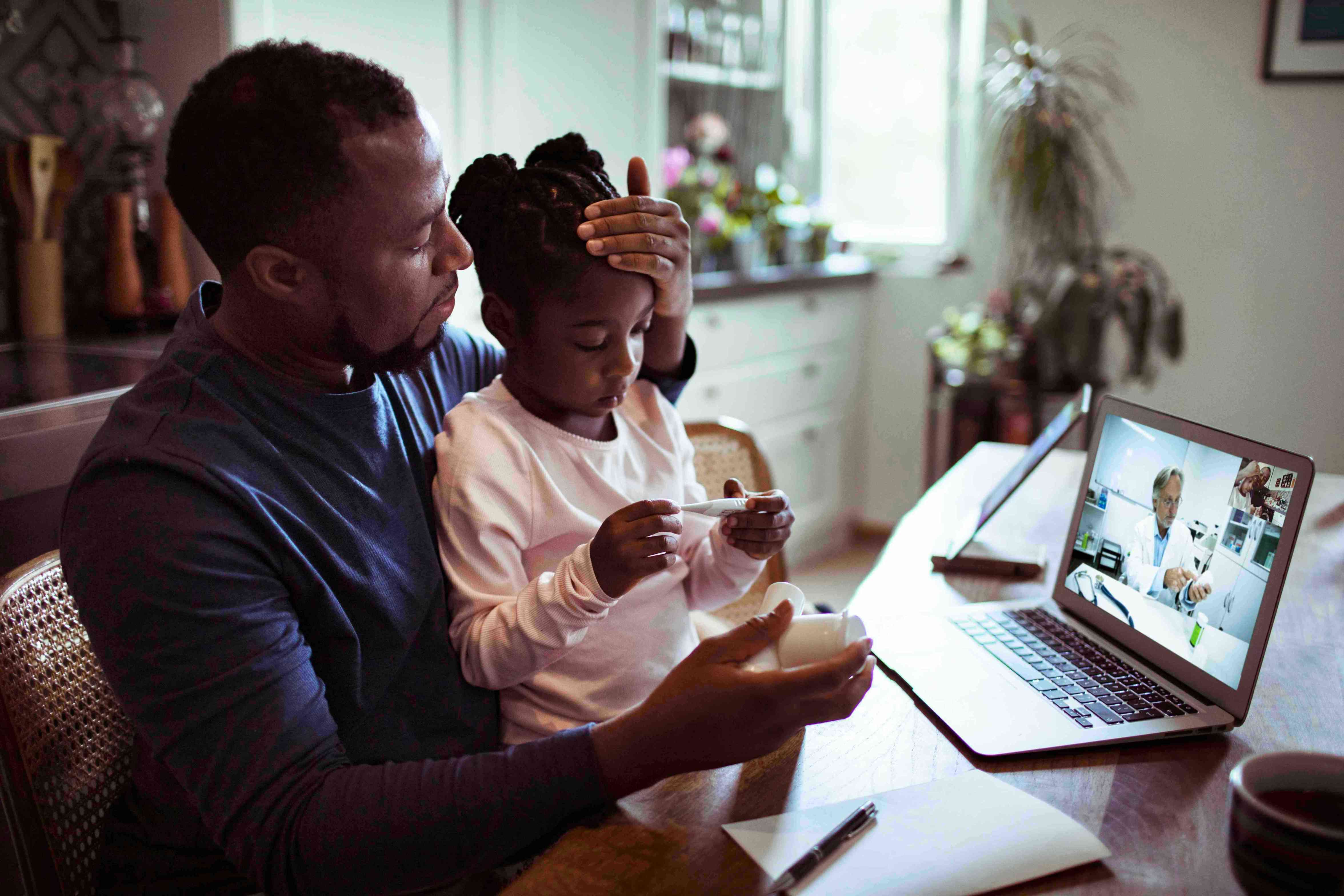 Telehealth becomes typical
One of the biggest healthcare transformation trends in 2021 has already been the almost pandemic-mandated move to telehealth and telemedicine. With billions of people under lockdown, sometimes the best way to access critical services was virtually, with even more archaic healthcare operators being forced onto Zoom calls or desperately trying to overhaul their systems to support telehealth as standard operating procedure.
With the global roll-out of 5G wireless technology, and shifting demands from patients, 2020 is seeing a huge uptick in telehealth, providing access to healthcare in a cost-effective (and socially distanced) way. For instance, telemedicine-led operator Babylon cared for a patient every 6 seconds and, in the first half of 2020, conducted over 630, 000 clinician consultations.
Heavy hitters like China, for example, aim to get at least 70% of their near 1.4 billion citizens on their telemedicine programme by 2022, while countries like the United Arab Emirates and Singapore are already rolling out or at least putting regulations in place to support this growing approach.
The United States, one of the countries hardest hit by the pandemic, is trying to engineer the switch to telehealth which, historically, has only been used by self-paying patients. 2021 is increasingly seeing private US health insurers and even the various Medicaid programs allowing reimbursement for telehealth.
Using data to predict disease
While many people are still wary of how their data can be used, and Europe's General Data Protection Regulations (GDPR) have been getting many column inches in the press over recent years, patients are becoming more open to the idea of using their personal health data for good.
Take Facebook for example, where, although privacy issues are still a matter of huge contention, groups of users gave consent to Penn Medicine and Stony Brook University to access their posts. These posts were used to predict over 21 conditions including diabetes, depression and anxiety as the researchers used language to model and predict diseases.
Similarly, in the United Kingdom where King's College London created the Covid Symptom Study app which, at last count, had over 4 million Brits providing a daily update on how they were feeling. The data gleaned from the app has already been instrumental helping to reveal six distinct 'types' of the virus, and help identify pandemic hot spots through the ground-breaking use of public data.

Securing the health supply chain
One of the areas under the most strain in the last year has been the logistics and supply chain industry. With consumers loathe (or even afraid) to travel beyond their front door even to get their basic necessities, logistics providers have seen an unprecedented surge in demand.
Couple this with an already strained supply chain for some hospitals and healthcare organisations, and securing the supply chain has become critically important in health, particularly in the public sector.
One of the biggest digital healthcare trends in 2021 is that of 'on-time' delivery of medication and care, and an optimised supply chain that will not only support patients recover more quickly, but more importantly free up hospital beds. By taking control of their supply chains, hospitals can help to decrease costs in an already tightly squeezed sector that is being pushed by shrinking margins.
Again, technology has a role to play. As an example, CognitiveRx, which predicts drug supply chain disruption helps hospitals plan their inventory through machine learning. On top of that, organisations are now looking into blockchain networks to allow real-time product monitoring, which again will help to enhance inventory management.

Patients know best
The days of blindly listening to the advice of healthcare professionals is gone – the modern patient is not only well-informed, but has a wealth of information available at a click of a button; from self-diagnosing on WebMD and checking symptoms on a government platform like the NHS App, to spending hours poring over online medical journals about the latest advances in their health care condition.
Take, for example, the frenzy of at-home genetics tests. In the last year, more than ever before, people are adding their DNA to ancestry and health databases. It's estimated that more than 100 million people will have added their details by the end of this year.
While this wave of ancestral tracing might not be entirely accurate (many of tests are seen as dubious at best), the rise of the empowered patient is not in doubt. And these patients are at least spending their time looking for early invention strategies and giving thought to their social behaviours, to mitigate risk.
In summary; healthcare megatrends to become the next normal
These seven digital health trends provide just a glimpse into the ever-evolving world of healthcare. With digital transformation beating down the emergency room door, these current trends in healthcare will spill over into the future, as the medical sector is forced to innovate with all these forces at play.
The countries and organisations embracing digitalisation in healthcare will see the dividends sooner than they might anticipate, as patients continue to demand better, quicker and more efficient service for their growing needs. From cloud-based consulting to data-driven disease projections, the future of healthcare is now, and the trends are quickly taking their place as the 'next normal' in the healthcare environment of today.
Rotageek is an e-rostering solution that provides automatic staff scheduling to various NHS trusts and healthcare companies. Compliant rotas can be created in seconds, catering for flexible working needs and matching labour demand.
To learn more about how you can optimise your employee schedules, speak to the Rotageek team today.