Surrey-based Ashford and St Peter's Hospitals NHS Foundation Trust, one of the UK's foremost Trusts, has signed a trial agreement with leading digital companies Rotageek and Locum's Nest to test the NHS' first-of-its-kind demand-led rostering.
Adopting a best-in-class approach to interoperability, the solution links scheduling and locums in an integrated network that ensures the right staffing levels are available to meet patient demand, and that the right roles make the rota, ultimately improving patient care.
Ashford and St Peter's (ASPH) will take advantage of Rotageek's next-generation digital rostering capabilities to schedule consultants, junior doctors, AHPS and nurses across the Trust in a fully optimised way. The ability to forecast changes in demand will provide the right professional-patient fit while ensuring compliance with hours-of-work regulations.
The solution's live integration with Locum's Nest delivers efficient filling of vacant shifts, designed to decrease reliance on expensive locum agencies and improving patient care with the help of healthcare professionals who know the patient demographics, disease subsets and local systems.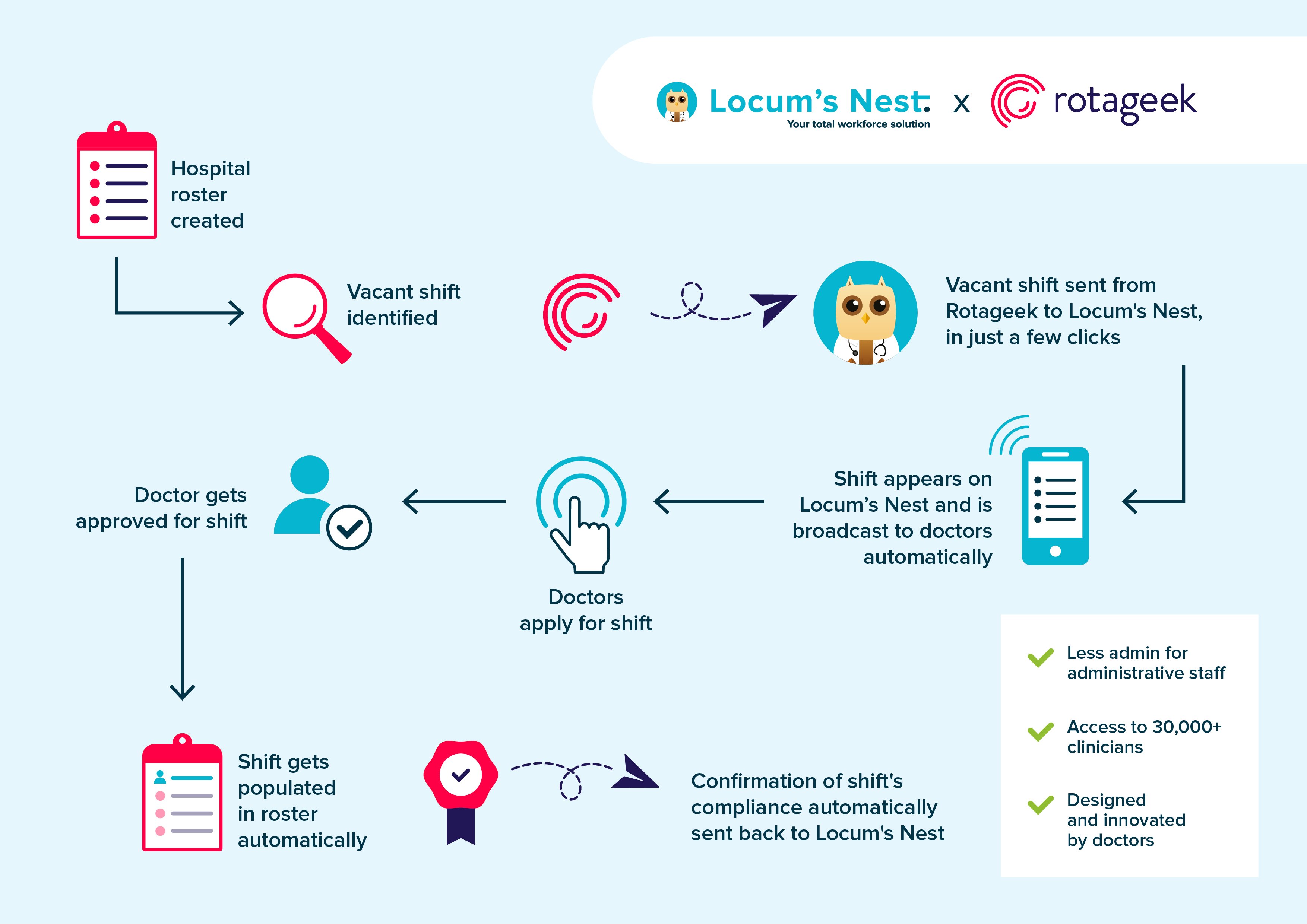 "For us, providing for our patients is our number one priority," states Debbie Beck, Project Manager at Ashford and St Peter's. "But, alongside this, we wanted to give our team at ASPH better access to manage their rota, reduce the effort in maintaining these rotas and joined up systems for managing staffing including those sourced via bank and agency. This truly interoperable solution ticked all those boxes, helping us to make the most efficient use of our resources."
The move towards interoperability is clearly outlined in the future vision of care in the United Kingdom. "The Ashford and St Peter's Trust is one of the most forward-thinking in the UK," says Dr Ahmed Shahrabani, co-founder of Locum's Nest. "By implementing this digital solution they're choosing best-in-class roster and collaborative staff bank tech all rolled into one; an interoperable model with the values of the NHS right at its core."
See how the integrated solution works:
The first phase of the pilot was rolled out in early October, including junior doctors in Anaesthetics and the wider staff contingent in Trauma and Orthopaedics. "We're excited to see the tangible benefits of the Rotageek-Locum's Nest live integration," comments Dr Chris McCullough, CEO and Co-founder of Rotageek. "As a former NHS A&E doctor, I know the critical importance of seamless scheduling to the NHS, and to the lives of both patients and healthcare professionals."
Find out more about this pioneering project by watching our recent talk exploring the future of workforce at the HPMA Virtual Conference here or read about it here.
About Rotageek
Rotageek is a data-driven workforce management solution creating staff schedules using cloud-based technology to effectively manage and engage employees. More than just digital scheduling, Rotageek uses machine learning algorithms to create millions of shift possibilities in seconds, to deliver a perfectly optimised schedule that meets business rules and legal requirements.
The brainchild of Chris McCullough, alongside co-founders Roy Pounder and Nick Mann, the solution was first built to support scheduling within hospitals. McCullough, previously an A&E doctor, wanted to find a way to overcome the inflexible rotas of British hospitals, developing a cloud-based solution to support better scheduling for busy employees.
Today Rotageek is used by leading businesses and organisations including Gap, O2, Pret a Manger and the NHS.
About Locum's Nest
The Locum's Nest workforce suite of products provides healthcare organisations with a cloud-based web platform to manage their vacancies efficiently and eliminate paper-based admin barriers. The platform provides a mobile app free for healthcare professionals who are instantly notified of vacancies within their chosen parameters increasing fill rates from within the organisations by supercharging the staff bank. Locum's Nest connects 30,000 healthcare professionals to temporary work in healthcare organisations, including 30 Trusts and hundreds of GP practices.
"Locum's Nest has been a great exemplar of digital enabled transformation by helping us better empower our workforce – vastly improving shift fill rate and reducing costs. It has supported us to create a collaborative staff bank with 8 other Trusts, which has transformed the way we are able to fill locum medical shifts and improved harmonisation of rates."
Suzanne Rankin, CEO, Ashford and St. Peter's Hospitals NHS Foundation Trust