Long gone are the days of a simple pop in and purchase. Up and down the high street, brick and mortar stores have transformed into a holistic shopping experience that encourages customers to spend time - and more money - in their establishment.
Take Topshop's in-store ball pit and live DJ for example, or Lush's renowned interactive customer experience - there are countless examples of brands who have invested in experiences you can only get in a physical store.
In this blog, we share how to improve the in-store experience, with inspiration from the UK's top retailers.
Why is the in-store experience so important?



It's not today's news that the ecommerce industry is a threat to brick and mortar stores. Experts predict that digital spend will account for 53% of retail sales in 10 years' time and that's before the world went into lockdown.
As online shopping grows and competition swells, the need to up your instore game is paramount. Thankfully, we've found out how.
While you might not have capacity for an onsite salon or smoothie bar, there are plenty of ways to take your in-store experience to the next level. Here's our roundup of the brands who have taken the lead in the retail experience - and how you can get inspired.


Social media opportunities
Whilst physical stores are the topic of conversation, social media still plays a key role in any offline retail strategy. Influencers, celebrities and high-profile shoppers are your best friend for free advertising. The way to entice them? Make it 'grammable.
Instagrammers continuously seek beautiful backdrops to feature on their feed - and if yours is one of them, you could experience a wave of new shoppers.
Consider London's most instagrammed cafe, Peggy Porschen. The pretty in pink exterior has been tagged over 70,000 times, growing the shop's following to almost half a million. The hotspot has seen visitors soar, with neighbouring eateries now emulating its seasonal facades.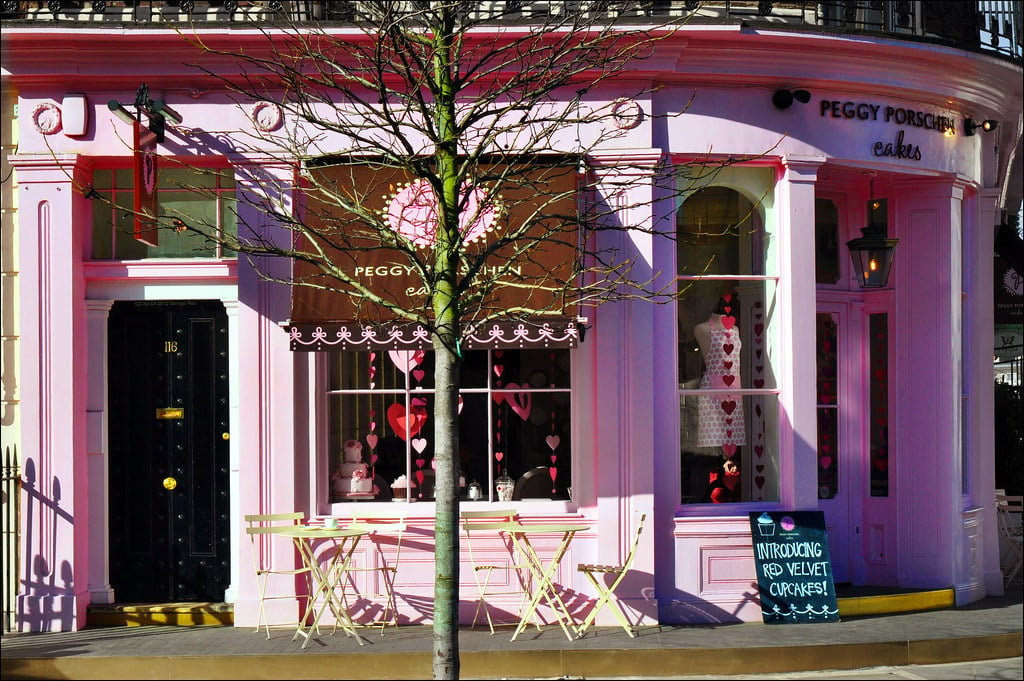 Luxury retailers have also made a name for themselves on social media. Tiffany's in Covent Garden has seen thousands of online check-ins since it opened its doors in 2018 as the first customer experience focused store.
The 'Style Studio' is decked in the brand's iconic duck-egg palette with playful experiences targeting the socially-savvy audience. Customers can interact with a personalisation station and Tiffany & Co. perfume vending machine as well as branded everyday items from plant pots to paper cups.
Creating an Instagram-worthy store is all about generating hype. Whether you go for a cascading floral shop front or lit up neon quote, make sure to feature it on your feed and don't discourage visitors from getting snap happy.


Interactive retail experiences
An immersive retail in-store experience completely envelops customers in your brand through the five senses; the benefits of which entices window shoppers and encourages a longer retail experience.
Jewellery giant Pandora has heavily invested in a new store concept that delivers a welcoming, interactive environment. Shoppers are naturally encouraged to flow through the store, with self-discovery touch points scattered along the journey.
A charm bar invites customers to touch and experiment with different products whilst a treasure trove features the brand's newest range. The investment also includes smoother navigation and check-out, as well as cleaner imagery and reduced energy consumption.
Disney has also refocused their retail strategy on their brick and mortar stores, to align with their park experiences and appeal to the older shopper.
Interaction is a key part of Disney's in-store experience from store opening ceremonies to play rooms and life-size characters. Visual stimulation is used through digital firework displays and screenings of the 'LIVE from Disney Parks' parade. Each of these immersive elements encourages guests to linger and experience some of the Disney magic during their shopping experience.
Delivering an immersive experience requires a holistic approach. Consider how you can scent the store to appeal to the customer's olfactory memory gland. Or present opportunities to touch, taste and interact with your product.


Virtual queuing
In a time where in-store traffic is limited, retailers are rethinking how to manage footfall without damaging the customer experience. One brand that has revolutionised the British queue to comply with social distancing regulations is O2.
Since the pandemic began, O2 has worked alongside retail tech companies Qudini and Rotageek to build innovative solutions that support their business customers. One of which is a robust virtual queuing system.
Walk-in customers receive an estimated wait time and live text alerts, enabling them to avoid unnecessary queuing and return when they're next in line. The innovative service, alongside their appointment booking systems, is now available for all O2 business customers across the high street. This digital transformation looks to be a part of the 'new normal' for retailers in a Covid-19 world.


Pop-up store
The pop-up concept is not a new one, but it's an experience that never tires. The idea behind a temporary installation is to surprise, entice and educate, creating a circle of long-term loyal customers - or ones that at least shout about your brand on social media.
Whilst the traditional pop-up is one that takes place outside your brick and mortar store, there's a new craze for collaborative in-store events and seasonal installations.
Take a look at Depop's latest pop-up within Selfridges' Designer Studio. Vintage and independent clothing from various entrepreneurial sellers were displayed in a playful dry cleaner set up, giving visitors control of how they viewed the selection.
Harrods also took the pop-up approach in Westfield shopping centre following its flagship opening post-lockdown. The temporary outlet store stocks a selection of excess seasonal fashion goods that were unsold due to the pandemic - an alternative to their world-famous summer sale.
The pop-up concept is one that is key for generating hype and standing out among the competition. By venturing beyond your store walls or inviting a like-minded brand in, you can emulate an exclusive 'get it whilst it's hot' vibe, attracting bigger and new crowds.


Investing in employees
Whilst shop fronts and immersive experiences are undeniably influential on an in-store experience, your staff are perhaps the most important factor.
Your employees are the heart of your brick and mortar store. They control how each experience is delivered, perceived and remembered. Their customer service can be the difference between creating a blown away, loyal shopper and one that vouches to never return again.
That's why adequate brand training is fundamental in upping your in-store experience game. Take inspiration from the likes of Lush and John Lewis who educate shop floor staff on browsing behaviours and intimate product knowledge.
They also invest heavily in nurturing a positive place to work which begins by putting their people's needs first.
Employee well-being is key to your store customer experience. Providing a good work-life balance, flexibility and autonomy are all major influences on your staff's ability to perform their role and satisfy customer needs.
Gap's recent investment in their employee experience saw a positive correlation with their customer happiness. The clothing retailer partnered with Rotageek to transform their rota scheduling from old-school Excel templates to an automatic online system. Whilst the revolutionary digital solution positively impacted productivity levels and rota accuracy by 14%, it also significantly improved customer feedback.
Rotageek's technology enables managers to utilise core employees who live and breathe the brand, ensuring the store is effectively staffed and rotas are created according to individual preferences and availability. Improved employee satisfaction and effective staffing decreased wait time in Gap's stores nationwide and led to a clear rise in basket size and conversion rate.


Find out more about Rotageek's data-driven technology and how we reinvent scheduling to improve both employee and customer experience.